You Want to do WHAT?
by rita sinclair
So you're engaged, and it's time to start the wedding planning. Your mom has chosen the invitations and your wedding gown. Your mother-in-law has given you a list with three hundred must-have guests. Your sister's already picked out her maid of honour dress (which your future sister-in-law doesn't like), and your father's complaining about the bar bill...for the reception you haven't yet planned.

When did your family take over your wedding?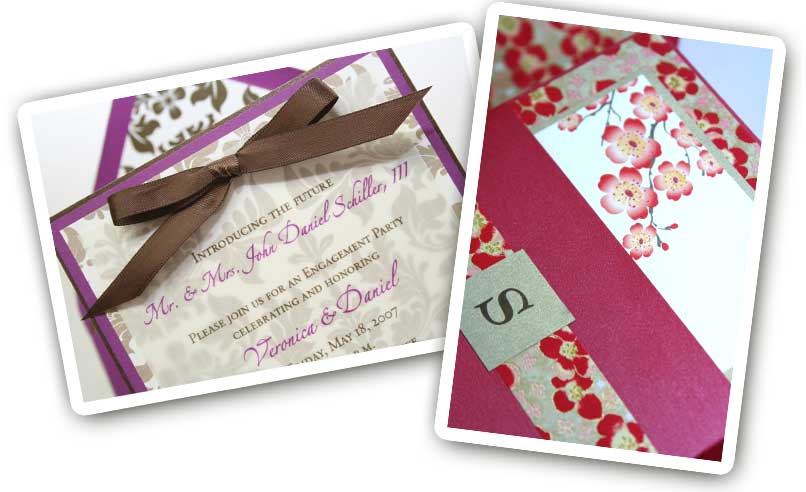 "Prior to my wedding, my husband I shared a home with my mother-in-law for several years. Throughout our engagement, we'd planned on going away and getting married quietly. When we finally set a date, you'd think my mother-in-law would have accepted our plans," Cassandra* explains.

"Instead, she seems to have thought it was our version of a comedy skit. As the date grew closer, I was exhausted by the tears and the bargaining. Eventually she yelled suggestions at me on my way in or out of the house, and I found myself yelling "NO" all the time."

Cassandra ran into the problem that many brides experience, she tried to create the ideal wedding for herself and her husband, and ended up with a family feud. It's hard to plan the wedding of your dreams when families pressure you to do things their way.

So how do you solve these family problems, and still have the wedding that you want?

It's OUR wedding!
Your mother has already had her wedding. Your mother-in-law had hers, too. It was their responsibility to make sure their weddings went the way they wanted; it's your responsibility to make sure they don't relive their wedding dreams through you.

My mother-in-law was three months' pregnant when she got married; that was a big taboo to her Dutch family. She was wedded in a small ceremony, wearing what she calls, "an ugly yellow dress that I bought off the rack in fifteen minutes one day". Still, they were unhappy with the plans my husband and I were making for our small wedding. After several tense family dinners in which wedding planning was not discusssed, my husband pointed out that twenty-five years later, his mother was still bitter about her quickie wedding. Did they want the same for us?

So what's the best thing you can do? Listen politely, nod, smile. When things get tense, take some time out. Go for a walk, don't answer the phone for a few days, move on to a different task. Then, when both parties have calmed down, take a second look at the issue and see if you can come to some sort of compromise. In the end, the wedding is about yourself and your husband--you're not going ot be able to please everyone.

If you find yourself with an interfering mother, sister, or second cousin once removed, give the busybody a task that will keep them occupied. A wedding is, at best, an organized person's nightmare. Give your interfering family member a job such as researching reception halls, calling late r.s.v.p.'ers, or arranging a bridesmaid luncheon. By delegating little tasks, you maintain artistic control over the big picture, and get help with the little jobs that would otherwise make you crazy.

Make a list...and check it twice!
What our families wanted was making us butt heads on a daily basis about everything from the date of the wedding to the ceremony location. Wedding planning was turning into a tug-of-war...and we weren't winning.
Jillian*, a newlywed herself, suggested we make lists. "Sit down and write out what's most important to each of you. It can be anything--trivial things like white flowers, or major things like dinner plans--that will show what you as a couple feel is important."

It turns out that my husband's number one priority was a fancy reception, followed by a small ceremony, and a good DJ. Mine were a classy reception, the dress of my dreams, and a small ceremony.

By outlining what we were most concerned with, we eliminated a lot of the pressures that our family put on us. When we wrote down what we felt was important, we realized that we were arguing when we really agreed on what we wanted.

Stand Together
Once you and your fiance have made your lists and your plans, stick together! If you both want to get married on a mountain cliff in Tibet, then back each other up at every turn. Your solidarity will go a long way to eliminating family arguments.

After losing her first husband to cancer, Dianna* found herself sharing meals with a widower down the street, and they were married after a short courtship.

"My daughter didn't feel enough time had passed since her father's death, and we ran into some opposition with Mike's grown children, as well," Dianna explains. "But we got married, and those who were important to us were at the ceremony. Things could have been much more difficult if we'd paid too much attention to our families. As it is, we've been happily married for fifteen years."

Even when you're not paying for it, it's your wedding
Things get tricky when you're not paying for all of your event. Jillian finally threw up her hands in frustration and let her mother plan her wedding. Because her parents were paying for the event, Jillian's mother invited guest after guest to what was supposed to be a tiny wedding ceremony in Las Vegas. Then, Jillian's wedding reception turned into a 200-person event in a venue meant for no more than 100--not ideal.

Sit down with each family and determine what your parents are willing to spend. My in-laws gave us a a number and told us to spend it however we wanted. My parents specifically said, "we'll pay for the dinner, the rest is up to you."

When you know exactly what everyone's contributing to the wedding, you can work on your plans. If your family pulls the sneaky, "Well, I'm paying for it!" card, give them a few days to cool off. Then reapproach the offended party and see if you can't come to some sort of compromise.

"I planned and executed my wedding in two weeks. I was going to wear a dress in my closet to my living-room wedding, but my mother-in-law was determined that I get a new dress," Marie* explains. "I couldn't afford one, but she really didn't want to pay for it. We compromised by buying an off-the-rack summer dress that didn't cost her much money, and still suited my ceremony."

Till death do us part
Through it all, don't forget why you and your spouse are marrying. Your love for each other, and your desire to make a life-long commitment, is the most inportant factor in the wedding plan. The family's role is to support your love for each other, not flood you with uncertanties and criticism. Don't let your family or friends get in the way of your happiness.

*Names changed to protect innocent brides