the headache of choice
by melissa worden
As a bride-to-be, the most difficult first step of preparing for the wedding wasn't deciding on which dress to choose, or what colors would be incorporated for the event. It was choosing what would best represent my soon-to-be husband, our families, and me, as invitations.

My husband-to-be, my future mother-in-law, and I all met at a local party supply store. What lay before us was much more of an undertaking than we originally thought.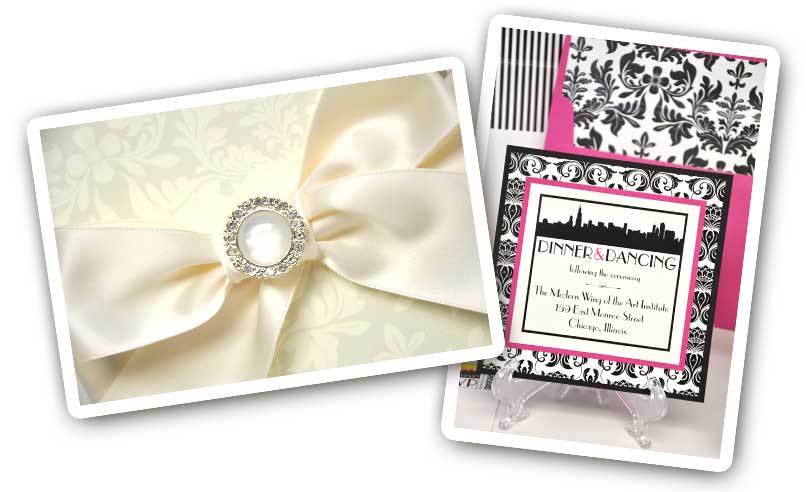 The store clerk led us back to a small section of the store with a large table and a few chairs. The entire back side of the table was covered with more than twenty thick catalogs! We were left to fend for ourselves, with no idea of where to start or which catalog to look at first.

My mother-in-law, being the go getter that she is, picked up a catalog and started flipping through the pages. We had already discussed what we were looking for, previous to going to the store.

What we had in mind was a little less formal than the average invitation, but still nice enough to attract our friends and family to come. We didn't want anything too religious or frilly, and we wanted something that would reflect our combined families, all without being too pricey. After looking through at least ten catalogs, we started to notice that many of them repeated the same designs, only replacing the verbiage on the inside of the invitations. We finally settled on a design we had seen in several of the books, after deciding that we weren't going to find anything less formal without having to pay for the extra postage due to size.

After thinking back on the entire planning process, we would have been better off having our invitations custom made. I wasn't completely happy with the invitations we had, and when we got them from the printers, half of our reply cards had been printed wrong. We almost sent them out that way, but luckily caught the mistake after being halfway done putting the postage on them.

With a custom invitation, we could have had the style we wanted, with the verbiage we wanted, without the hassle of finding what we wanted ourselves. At that point, the cost would have not been an issue because the headache of trying to find something we could agree on would have been eliminated.

I have several friends that are planning weddings now. When they ask me about the best place to go for invitations, I advise them to go to a place that works with their wants and needs, rather than one that sits you in a room with catalogs and lets you go at it yourself. Planning a wedding is already hard enough without having so many choices to make about an invitation. It should be easier than picking out your dress or colors, not a headache with an ocean of catalogs to spend hours sifting through.