the first impression
by rita sinclair
After two years of engagement and with me fresh out of university, my husband and I finally got married. It was a small, intimate affair and we needed all the help we could get in the finance department! We cut corners on my dress, on the size of the bridal party, and on the ceremony location.

One thing we agreed not to skimp on was invitations. For both our wedding and our relationship, the invitation had a major role to play: it was an announcement of our future. It was also an example of what kind of event we were planning, and acted as a first impression to far-flung family members.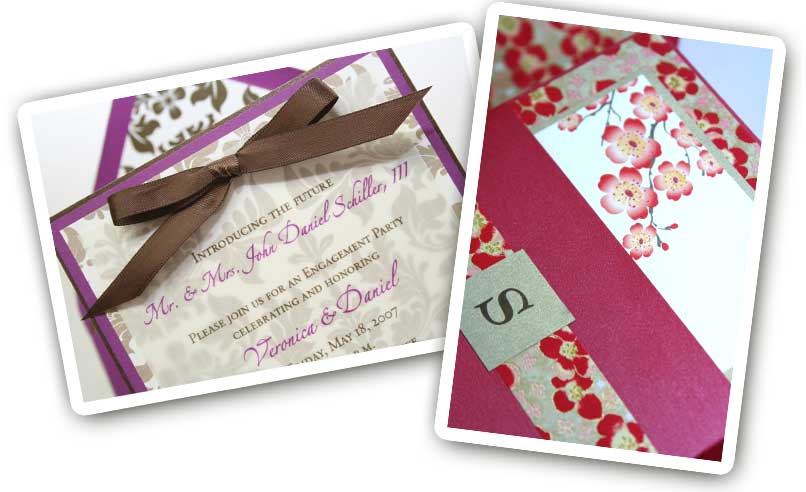 We wanted an invitation that no one had seen before. It had to tie in with the event that we'd planned, and the traditional invitation packages offered at most printers, outlets and stationery stores just weren't working.

Our wedding was atypical: we had close friends and family at a small non-religious ceremony, followed by an hors d'oeuvres reception for one hundred guests at a stylish hotel. It was small, intimate, elegant. We weren't having a traditional event, so a traditional invitation wouldn't properly introduce our event to our guests.

What we needed was someone willing to work with our requirements, instead of the other way around. Due to the nature of our event, we needed the invitations to act as a wedding announcement and reception invitation. Then, for close friends and family attending the actual ceremony, we needed a cost-effective and tidy ceremony card that would look good with the rest of the package.

When we looked at prepared invitations offered by printers, we found that most only accepted orders in quantities of twenty-five or fifty. Printers wanted us to fit our event into their packages, instead of suiting their packages to our needs. It was difficult to change font colours, or provide a custom-written verse instead of the usual recycled text. Most printers have ready-made verses in which they insert names and dates; not many will accommodate a customized verse or layout. Flexibility in design and customization was nil.

The DIY-invitation kits offered at most stores come in sets of fifty (we needed sixty-five, counting spares) and included reply cards, reply envelopes, menus, place cards all sorts of things that our less-traditional wedding didn't require. The kits didn't include the ceremony cards that we'd need, and trying to match the paper was next to impossible. Not only were the kits too constrained for our needs, I hadn't heard of anyone having a lot of success printing their own invitations. My bridesmaid printed her wedding invitations--one at a time. Because of the type of paper used, she had to lay them out to dry for twenty-four hours before she was able to finish assembling them and mailing them. My sister had to untie and re-tie bows on each of her cards, as she couldn't put them through a printer with the ribbon attached. My husband and I considered one self-print package...until we realized that the design left ugly serrated edges when you separated the invitations. Talk about inelegant!

After a month of looking, we finally found a company willing to work with us. Their invitations were hand-made,any color, any style, anything we wanted. They accepted orders for as few as two, or as many as a thousand.

I spent over an hour working with designers on the initial construction of the invitations. They asked a multitude of questions about our wedding plans, showed me paper styles and non-traditional invitation samples. In the course of the discussion, I described the rich red carpeting on the grand staircase where we'd have our wedding pictures taken. I also outlined the burgundy dress that my bridesmaid would wear, and the burgundy vests of the groomsmen. With keen insight and inside product knowledge, the designer found the solution to our invitation woes.

My husband and I settled on a voluptuous crimson faux-suede paper on a black background. The paper was divine; it was soft to the touch and looked stunning when paired with laser-printed black script. The ceremony cards were petite, printed black on white cardpaper. We mailed the cards and invitations in stark white envelopes. Each invitation was fashioned by hand, and inspected by one of the company's owners to ensure accuracy and quality. This was what the magazines meant when they said wedding planning was fun!

I composed my own verse, and asked guests to r.s.v.p. via an e-mail address set up for the occasion. I was able to e-mail my verse and corrections to my designer, which was a big time-saver. My husband and I approved the final layout of the design within a week, and we picked them up just a few weeks later--far less than the six- or eight-week turnaround quoted by most major printers. Because we were dealing with a small company intent on making our invitations memorable, I wasn't concerned about needing an extra invitation or two, or calling for a few spare envelopes or ceremony cards. Our designer knew me by name and could talk about the details of my order by phone or e-mail without having to re-check her files.

I hand-wrote the addresses in the darkest red ink I could find. The soft suede fabric and the vibrant colour we had chosen made them extraordinary compared to the standard cream-coloured parchment invitation. The result was elegant, tactile, and conformed with our hors d'oeuvres reception in a way that a traditional invitation package never could.

My husband and I had experienced a lot of difficulty with our families over the fact that Great-Aunt Hilda and Cousin Peter hadn't been invited to our intimate wedding ceremony. Guests were confused because we didn't have a traditional church ceremony followed by a sit-down dinner. However, our chic wedding invitations acted as an eye-opener. The way our non-traditional event was perceived suddenly changed; guests complimented us on our choice of custom invitations to properly announce our event.

We were really pleased by the quality and limitless options available when we found someone willing to help us design our invitations. We were especially impressed with the final bill. We cut out the reply cards and extra envelopes of a traditional invitation package, then we ordered exactly the right number of invitations. The total cost of our custom wedding invitations was almost the same as it would have been if we'd gone with an impersonal dual-fold parchment invitation package.

And you know, the first wedding anniversary is paper. I think it's time to start nagging my husband about a customized stationery set....